Photopolymer-Made ADA & Traditional Signage
Wayfinding and ADA compliant signage can come in a variety of materials, each with their own unique benefits depending on facility infrastructure and needs. 
For instance, ADA compliant signage serves people who rely heavily on their tactile sense.  These signs are required by law to have raised letters and Grade II Braille in addition to contrasting colors for those with low vision.  ADA signs can be created using several different methods, but the most common choices for ADA and Braille signage are photopolymer signs and thermoformed signs. Photopolymer is heavily specified in the industry for its ease of styling, it small detail design offerings and reputation in the sign design community. 
Both options have their advantages. Choosing the right one for your facility should be an informed decision. To this end, let's discuss how photopolymer ADA signs are made and highlight some of their features. If you'd like to partner with Bellco, visit our contact page or give us a call today!
Photopolymer: The High-End Choice For ADA Signs & Traditional Signage
Photopolymer is one of the most widely used materials for ADA compliant signage today.  Polymer is a light-activated resin.  The polymer resin changes its properties when it is exposed to UV light.  After a water wash out and additional UV light exposure, the hardened 1/32 raised text, symbols and grade II braille are ready for painting and finishing into an ADA Compliant Sign.  
Top Features Of A Photopolymer Sign
Photopolymer is the best choice for raised fine detail graphics such as small detail logos.  

Photopolymer  in the thinner base materials are perfect as flexible lenses in curved style frames.  

Photopolymer is also available on a natural aluminum base, in some 3form materials and also some custom Wilsonart laminate bases as well as  photoluminescent (A.K.A. glow in the dark).

Some photopolymer materials qualify for LEED Certification.

Photopolymer ADA compliant signs can be either surface or subsurface painted, and ordered in any color combinations.
Photopolymer signs provide a high end, professional look to your ADA Signs.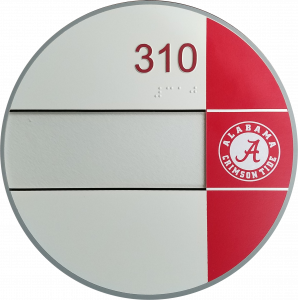 How Are Photopolymer ADA Signs & Other Signage Made
The photopolymer process involves the following steps:
First, a film negative of your sign image (which contains the raised letters, any symbols or logo and Grade II Braille letters) is laid out onto  a photosensitive sheet of polymer;

Immediately after, the film negative and photopolymer sheet are placed in a photopolymer processor that exposes them to ultraviolet light which causes the letters from the digital image to be formed;

Next, the sign is water etched, dried and exposed to UV again for the final step and hardening of the polymer

Click below to closer look at each of these steps involved in making photopolymer signs!
Working With Bell Company, Inc. For Photopolymer ADA Signs & More
With so many companies in the sign industry, only a few of those manufacture and Wholesale photopolymer ADA signs.  Our company has more than 75 years of experience in manufacturing ADA compliant signage. Our facility is equipped with modern technology, and our team includes skillful designers and Braille readers to ensure each project is completed perfectly. You are in safe hands with us and we look forward to working with you. Contact us for a quote today!